Tom Dowling, former Meath County Manager and Chairman of the Pride of Place Committee, has been the driving force behind the competition, the original community recognition awards, since the pilot competition in 2003.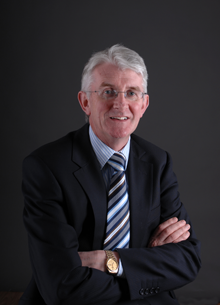 The project stems from Co-operation Ireland's work with local authorities on a cross-border basis through the Local Authority All Island Steering Forum established in 2002. The Forum is a partnership of representatives from the Society of Local Authority Chief Executives (SOLACE) and the County and City Managers' Association (CCMA). The purpose of the forum is to encourage strategic, sustainable approaches to cross-border co-operation.
A number of committees were established to progress initiatives and one such committee was the Community and Leisure Sub-committee chaired by Tom Dowling himself. He realised the potential within communities to foster the relationship between Local Authorities and the communities they serve. The Pride of Place initiative was born out of this. Tom Dowling is ideally placed in his role as Pride of Place judge and former County Manager to monitor the on-going operation of Pride of Place. He has had a major role in implementing refinements and improvements in the competition since its inception.