"Proud of Our Past, Confident of Our Future"
Pride of Place. Hard work? Yes! Worth it? …Most definitely!!
On 10 July the Judges visited Dromiskin, Co Louth, a community that prides itself in being age and environmentally friendly.
The judges were introduced to the following local organisations who shared their stories and outlined their hopes:
Residents' Associations
Dromiskin Tidy Towns Volunteers
St. Joseph's GAA Football Club, Community Employment Scheme
Tús Scheme
Senior Citizens' Committee
Youth Club
Coffee Morning Group
Historical and Gardening Societies
St. Vincent de Paul
Credit Union
St. Peter's National School
Local Businesses
Athletics and Soccer Clubs
Fit For Life Young Musicians And Dancers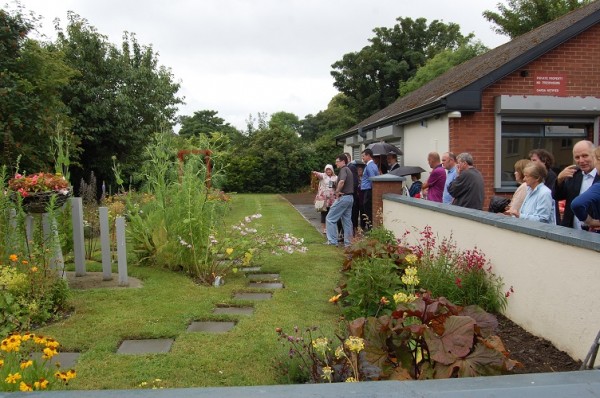 Danes, Czechs and Argentines All Playing Their Part
A mix of young and old, national and non-nationals welcomed the judges.  Local Councillor, Liam Reilly spoke about the assimilation of newcomers into the community and the roles they are playing in local organisations.
How lovely to hear of the retired Danish lady, an attendee at the coffee mornings, who joins her new friends for daily walks?
Or the newcomer from the Czech Republic, one of the runners in Dromiskin who had made many new acquaintances through Fit for Life?
And the latest member of Tidy Towns from Argentina.
Dromiskin is a certainly an inclusive community brimming with diversity and pride.  
A Whistle stop tour of Dromiskin with entertainment laid on by fiddlers, dancers, harpists, and historians…
Even some young models in "Ballrooms of Romance" attire were involved in entertaining the judges in an event provided by curator Dr. B Flanagan. Another proud resident Pauline Bray Mc Knight escorted the visitors around the local estate, Church View.

The tour of the village was not without incident!
The highlight of the judges' visit to St. Ronan's Villas was to be a tree planting ceremony at a prominent location in the estate.   Says Co-Ordinator John Hanneffy:
I was shocked when minutes before the arrival of our esteemed guests, we discovered that an overly enthusiastic CES worker had overstepped his brief and had already planted the tree!
John located a spade and quickly unplanted the tree, and the ceremony went ahead with judges blissfully unaware of the panic that had unfolded minutes previously!  The CES worker remarked that at least the tree had an hour's good growth!
Dromiskin Dundalk: Proud Of Our Past and Confident Of Our Future
Locals demonstrated their celebration of their unique heritage such as:
The Round Tower
Celtic Cross
Church ruins
Ancient monastic site
Souterrain
Crannóg
Viking past
This is reflected in the slogan, chosen for the 2014 branding ceremony:
Bródúil as an tréimhse atá thart – Muiníneach d'ár Todhchaí" (Proud of our Past and Confident of our Future)
In recognition of this fact, the recently launched heritage trail provided visitors with entertaining focal points of the village. The locals were extremely happy with how the day went and in resident Pat Mulligan's words…
Pride of Place. Hard work?… Yes! Worth it? … Most definitely!!
https://prideofplace.ie/wp-content/uploads/2014/07/AOH-Hall.jpg
512
772
Shop
https://prideofplace.ie/wp-content/uploads/2023/05/IPB-POP-2023-branding.png
Shop
2014-08-05 09:00:30
2014-07-30 15:42:05
"Proud of Our Past, Confident of Our Future"