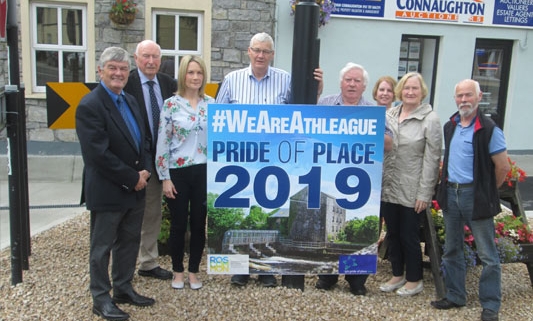 Category One – Population Category 0-300
Winner: Athleague, Co Roscommon
Summary:
Athleague is a small village on the River Suck five miles from Roscommon town and close to the Galway border. Its commercial activity is well above what would be expected in a village several times its size. Many community groups ensure the village maximises its road, rail and water location. The community completed the restoration of an old derelict church into the Suck Valley Angling and Visitor Centre to benefit from its location on the Suck Valley Way and Beara Breiffne routes as well as Green Heartlands Cycle Route. The community centre is currently being redeveloped into a multi-use centre. All the community groups are going through a "Dragon's Den" process of bringing in external experts to pitch their ideas for Athleague to locals for preparing an innovative Community & Economic Plan for the village and its hinterlands. The village has recovered from flooding and showed strong commitment to pushing on past such setbacks.
Community Contact: Claudette Collins, [email protected]
Citation:
Two things greatly impressed the judges on the occasion of their visit to this village. One was the strong sense of community evidenced in the successful completion of many projects and the other was the strong bond that had developed between the local community and their County Council. The village has recovered from a major flooding setback in 2009, when the community rallied round to trigger a wonderful transformation. This augers well for the many new projects that are under way. A bright future is in store!
Runners Up: Ballyhale, Co Kilkenny, and Fenagh Village, Co Leitrim.