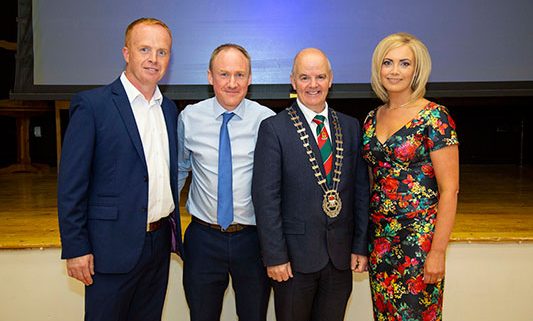 Winner: Balla, Co Mayo
Summary
Balla, located on the N60 between Claremorris and Castlebar in County Mayo, is a very progressive community, where a great deal has already been accomplished by a sustained cooperative effort on part of the local people. Balla Community Resource Development Ltd, was established in 1995 with a vision of "A sustainable community, based on a spirit of trust, where everybody can feel valued and supported". The first project completed was a Community Resource Centre with the help of South West Mayo Development Company, Mayo County Council and FÁS. Balla CRD is now the focal point of the community and initiates and leads many community projects such as Markets, Festivals, Family Fun Days, Parades and much more. The Centre also comprises a Multi-Use Games Area, Tennis Courts and a state of the art Children's Playground and an 'Early Years Learning Centre'. A Community Futures Plan driven by thirty local organisations will guide developments within the community over the next five years.
Community Contact: Siofra Kilcullen [email protected]
Citation
It is rarely that the judges visit a place where virtually everybody encountered is on cue regarding sustained co-operative effort and what it takes to maintain a sustainable community. Undoubtedly this is one such place. Everyone can and does feel valued and supported. On the day of their visit the judges were extremely impressed that this spirit was backed up by a business like focus in ensuring that all projects were properly managed – a truly inspiring place.
Runners Up: Coolaney, Co Sligo and Killeshin, Co Laois