1. Pop Category 0 – 250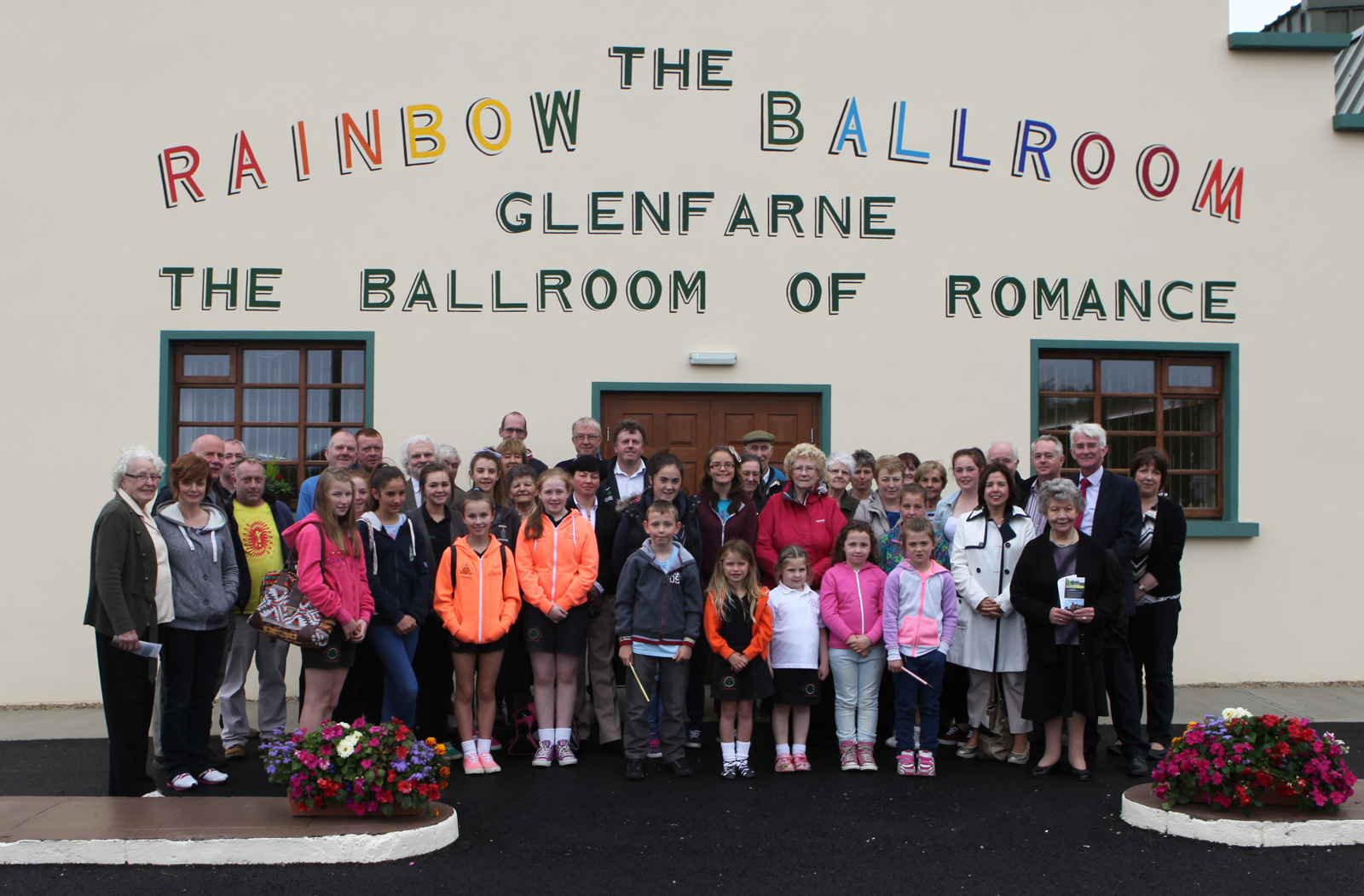 Winner: Glenfarne , Co Leitrim
Glenfarne Community Development Trust has developed a range of services and initiatives, which boost the local area and enrich the fabric of community life. A recent flagship project involved the refurbishment of the Rainbow Ballroom of Romance, which as a renowned Dancehall was the inspiration of William Trevor's book, the Ballroom of Romance. It now serves as a well-used community resource and tourist information centre, providing an exhibition of past community life and Drama, Dance, Exercise classes and other community activities.
The scenic area of Glenfarne is situated in a sparsely populated valley in north Leitrim, surrounded by mountains to the north and south with views eastward towards the glens of Cavan and Fermanagh and westward towards the Atlantic coastline. It is home to a beautiful mixed wooded demesne that straddles the western shoreline of Lough MacNean upper and accommodates the lower course of the Cornavannoge River.
Judges' Citation
The judges really enjoyed their visit to this warm and welcoming remote community in a lovely scenic area in north Leitrim. Crucially this community recognises the value of its many wonderful environmental and cultural assets and realise the importance of making them work for the benefit of the whole community. To their great credit the community has restored for community and cultural use the iconic 'Ballroom of Romance' which is justifiably a great source of pride in the area. The plans for the future of Glenfarne are very exciting indeed.
2. Pop Category 250 – 750
Joint Winner: Ardmore, County Waterford

Between Dungarvan and Youghal you'll come upon the award-winning village of Ardmore just off the N25. Wrapped around a long sandy beach the picturesque village is steeped in history being one of the oldest Christian settlements in Ireland. It is also renowned for its fine 12th century Round Tower, a perfectly proportioned monument to Irish monastic life. St Declan brought Christianity to the area before St Patrick came to Ireland and his feast day is "Pattern Day" every 24th July. Ardmore now has the famous Pattern Festival in July, which draws crowds from all over Ireland with a weekend of music and entertainment throughout the village. Ardmore caters to its thriving tourist industry with pubs, restaurants and the best in Irish art, pottery and crafts in the Ardmore craft shops displaying local and Irish talent. Vibrant local clubs and committees work together to make Ardmore an attractive destination in which to live and to visit.
Judges' Citation
The judges' visit started with a meticulous and informative presentation. There was an excellent degree of organisation on the day with a fantastic exhibition of community pride, culture, environment, heritage and care for the people. As a demonstration of community cohesiveness and collaboration with the various agencies, in particular the local council, this entry was second to none. The approach of rebuilding a traditional festival to an event that brought great benefits to the area and as a vehicle to get community organisations to work together is especially praiseworthy. The judges attest that the visit to the beautiful seaside village of Ardmore was memorable in so many ways.
Joint Winner: Belcarra, Co Mayo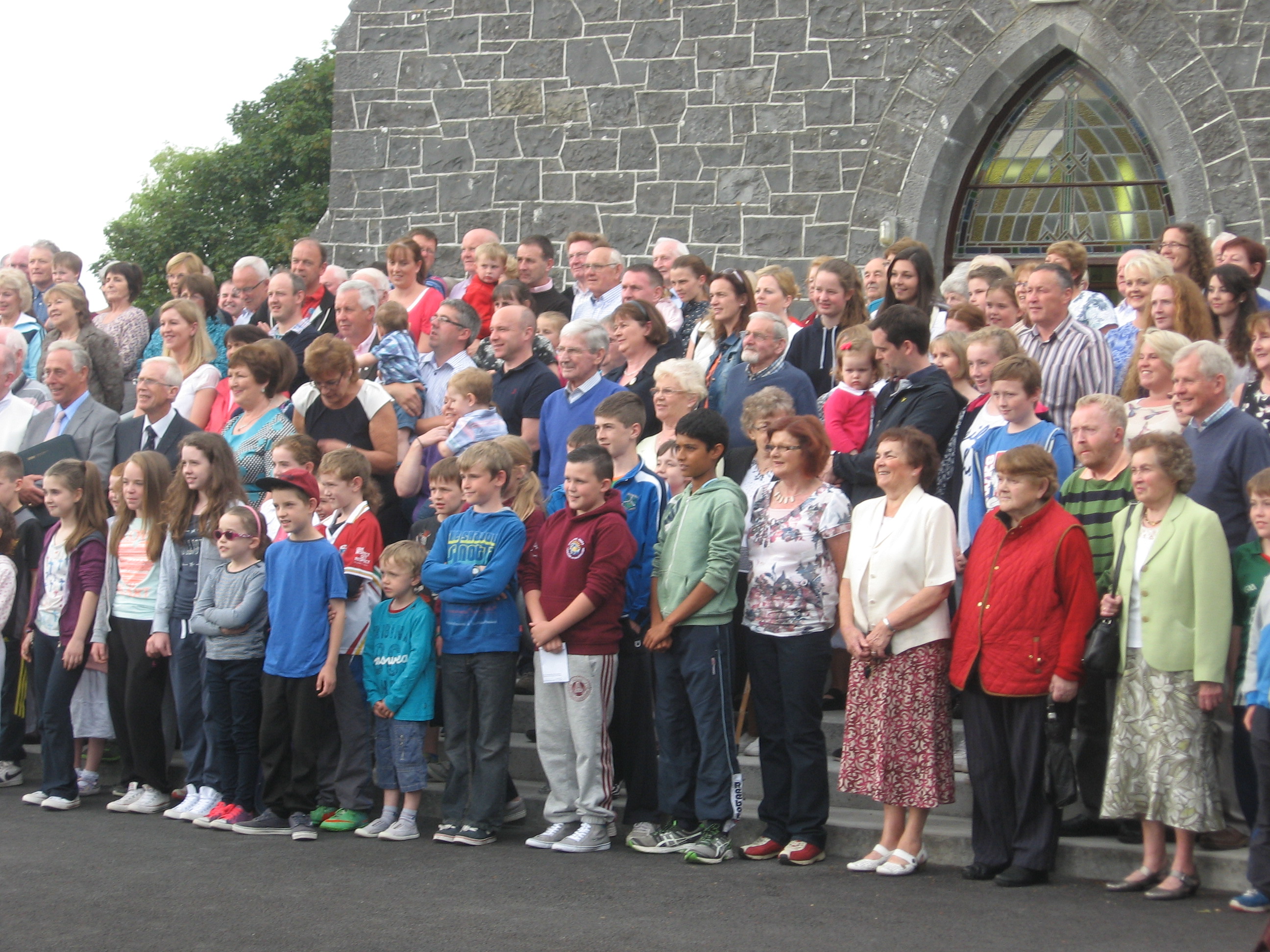 Belcarra is a rural village in the northern part of the plains of Mayo. The name Belcarra is derived from the Gaelic "Baile na Cora" meaning "village of the Weir". A state of the art community /sports centre is situated in the centre of the village, housing a number of bronze-age artifacts which reflect the rich history of the area. Belcarra village has a long tradition of success in the Mayo Tidy Towns competition.
A number of voluntary action groups in the area have developed a Community Futures plan. With its own Website (www.belcarra.ie) the community has always looked for excellence in any local project undertaken. It has one of the finest heritage centres in the region, with preservation of the eviction cottage. The 8km Belcarra Fun run has become an important event in the local calendar. The Tidy Towns group, Handball Club and Foróige group have all achieved national recognition for their work and success.
Judges' Citation
The turnout and presentation on the occasion of the judges' visit was truly spectacular and clearly demonstrated the very high level of community spirit that exists in Belcarra. Good planning in the past has enabled this community to develop in a very positive manner and sometimes a community is well served in a specific area by a particular community group, but Belcarra is blessed with a community organisation that is caring for all its citizens, it's environment and it's built heritage clearly proud of its past while focused on the welfare of the entire community into the future.
3. Pop Category 750 – 1500
Winner: The Community of Tydavnet, Co Monaghan

Tydavnet is a thriving community. One of the first in Ireland to develop a Parish Development Plan back in the 1950's, it has been working tirelessly ever since. The community has a deep sense of identity and a regard for local heritage, and has developed a close association with Geel in Belgium, home to St Dympna (after whom Tydavnet is named) after she left Ireland. The people of Tydavnet know they live in a special community, and they take a lot of pride in keeping it that way, ensuring that newcomers are brought into the heart of community activity and that the next generation grows up with the strong sense of contributing to their locality. This is a community of "do-ers" – two years ago, over the course of a couple of weekends and powered only by a few sausages on a barbeque, local people turned out in force to restore and refurbish the derelict Cornagilta School, which now hosts regular storytelling and ceili nights.
Judges' Citation
The judges were impressed in every respect from the moment they arrived in this small village in north County Monaghan until their departure. Belonging to Tydavnet is something that means so much to every member of this industrious, generous and thoroughly engaging community. Involvement at all levels is key and this is reciprocated with support from the council and other agencies. Huge pride is demonstrated in every aspect of life. The respect and pride for heritage and culture was palpable as was the care for people in the community who needed it most.
4. Population Category 1500 – 4000
Winner: Kenmare, Co Kerry

Kenmare Bay and its surrounding areas is a place of natural beauty and heritage, whose citizens are the guardians of the richest heritage and biodiversity in the land for over 5,000 years. A visit to Kenmare heritage town leaves lasting memories, with its colourful shop fronts, unrivalled range of restaurants and a great calendar of festivals and events. The area offers sanctuary, great escapes and outdoor adventure all year round.
With changing times, Kenmare has grown to become inclusive of many people from across the globe who have decided to make this special place their home. A new alliance has formed between community and commerce resulting in projects improving the community for residents and visitors alike. A new spirit has been created as this diverse and creative people work together. Kenmare and its surrounding areas now work together to protect the natural environment and built heritage, to stimulate the local economy and to further nurture local community spirit.
Judges' Citation
While Kenmare Bay and environs is a place of outstanding natural beauty and heritage this is not the reason the judges selected it as category winner. This is a community with a very clear vision of the way forward. There is talk of a new alliance and a new spirit and the judges were immediately aware of an inclusivity and "can do" attitude that underpins the undertaking of all projects. The guardians of a rich heritage and biodiversity are not resting on their laurels. Kenmare is being marketed professionally as a destination of choice and there is much to admire in the very specific plan to keep it that way.
5. Eco Initiative Category
Winner: The Cloughjordan Community, Co Tipperary

The Cloughjordan Community Development Committee is a voluntary community group and registered charity. Cloughjordan was developed as an intentional village settlement in the mid 1600s following on from the Confederacy Wars and Cromwellian campaign and today it is a diverse cultural centre. A CLAR designate area, the village suffered enormous rural decline in past decades. Today, though, Cloughjordan is regarded as one of Ireland's most vibrant and greenest communities, with its Eco-Neighbourhood winning a `Green Oscar' at the 2013 UN International Living Community Awards. The Cloughjordan Eco-Village Project, Ireland's largerst 'Eco-neighbourhood', has 50 acres of land for allotments, farming and woodland and a wood-powered community heating system. The Cloughjordan Community Farm has over 60 subscriber families and provides organic food weekly to its members. Cloughjordan has achieved a lot over the past few years and has plans to go even further in developing as Ireland's first 'Eco-Town'.
Judges' Citation
The judges were expecting something special from this community and they were not disappointed. The judges were well aware of the Eco-Village project having visited it previously and always wondered how the new village and old village would work together. They were extremely impressed with what they saw and the positive impact both have on one another. They were particularly impressed with the involvement of the businesses in the area, the heritage, environmental and art communities, the appearance of the village and the sense of confidence and positivity in Cloughjordan, which must now be a watchword for best practice in an Eco community.
6. Community Innovation Category
Winner: Festina Lente, Co Wicklow

Festina Lente is a not-for-profit organization providing a range of occupational learning and employment opportunities for people whose needs have not been met by mainstream services. It was founded in 1988, and has worked to fulfill both a social and business mission in an empathetic, professional and innovative way. All activities encourage individual personal development, achievement and progression. This is achieved through a flexible and supported learning environment. The project has a reputation for excellence in coaching people of all ages and abilities who not only learn to ride, but also learn about horse welfare and management. There is also a sensory trail, a Victorian Walled Garden and a shop. Festina Lente has had a significant impact on the lives of many people, providing innovative solutions to the training and development needs of those often excluded from participation in society. It is a shining example of good practice that could be replicated in other areas.
Judges' Citation
Festina Lente, meaning hasten slowly, is an embracing not-for-profit organization which provides a range of occupational learning and employment opportunities for people whose needs have not been met in mainstream services. It encompasses an equestrian centre, walled garden and a garden centre. The judges attest to a careful, considered approach which through social inclusion supports those most at risk. .All activities encourage individual personal development, achievement and progression. There are a number of programmes from therapeutic riding to equestrian vocational training, but the overriding ethos is one of encouragement and facilitation. In the judges' opinion this is a shining example of good practice that could be replicated elsewhere.
7. Community Health Category
Winner: New Ross Allotments and Men's Shed, Co Wexford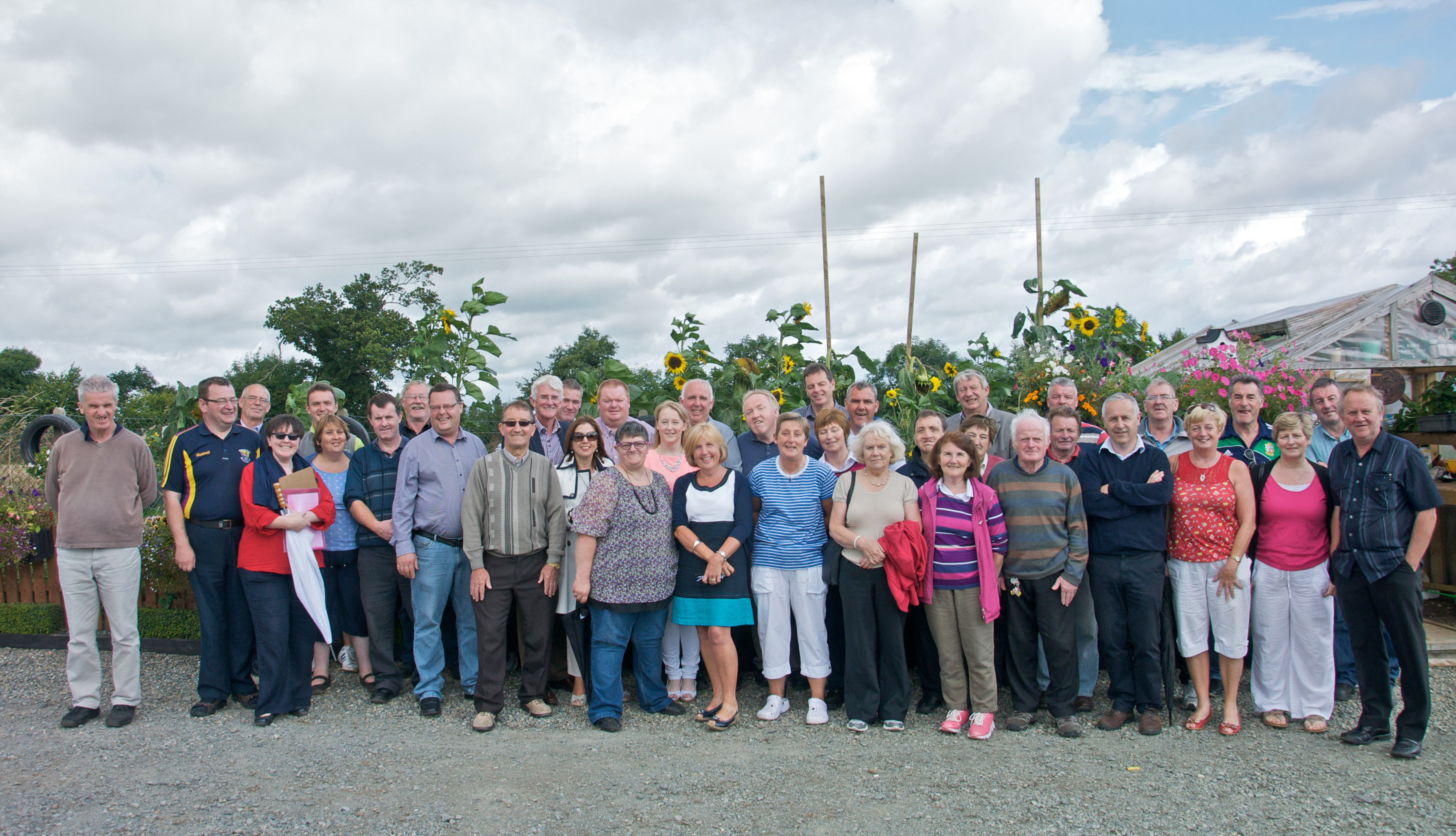 New Ross Allotments is a project, which was initiated in 2011, to combat isolation, improve health and wellbeing, and increase the self worth and motivation of low income, unemployed and disadvantaged communities. It is a County Council led project with strong input from the New Ross Allotment Group. This group is made up entirely of allotment holders who articulate their collective view and who work to ensure that the allotment programme is a success.
The Men's Shed Project is based on the same site. This is a Community based, non commercial organisation which is open to all men who wish to work together whilst enjoying each other's company. The motto is "Men don't talk face to face, they talk shoulder to shoulder". This is an organised group which takes great pride in its work and is made up of men from various socio-economic backgrounds.
Judges' Citation
What impressed the judges in this instance was the impact this excellent community health initiative has made on so many people in the community. This is not just about benefiting a narrow cohort, it involves all age groups throughout the community in healthy activity for both body and mind. This was demonstrated on the day by really wonderful presentations and observations by the people involved. The project has the support of the council and a wide range of agencies and voluntary organisations. The link between the tandem activities of the men's shed and the allotments makes the project a place for the whole family.
8. Housing Estates Category
Winner: Battery Heights, Co Westmeath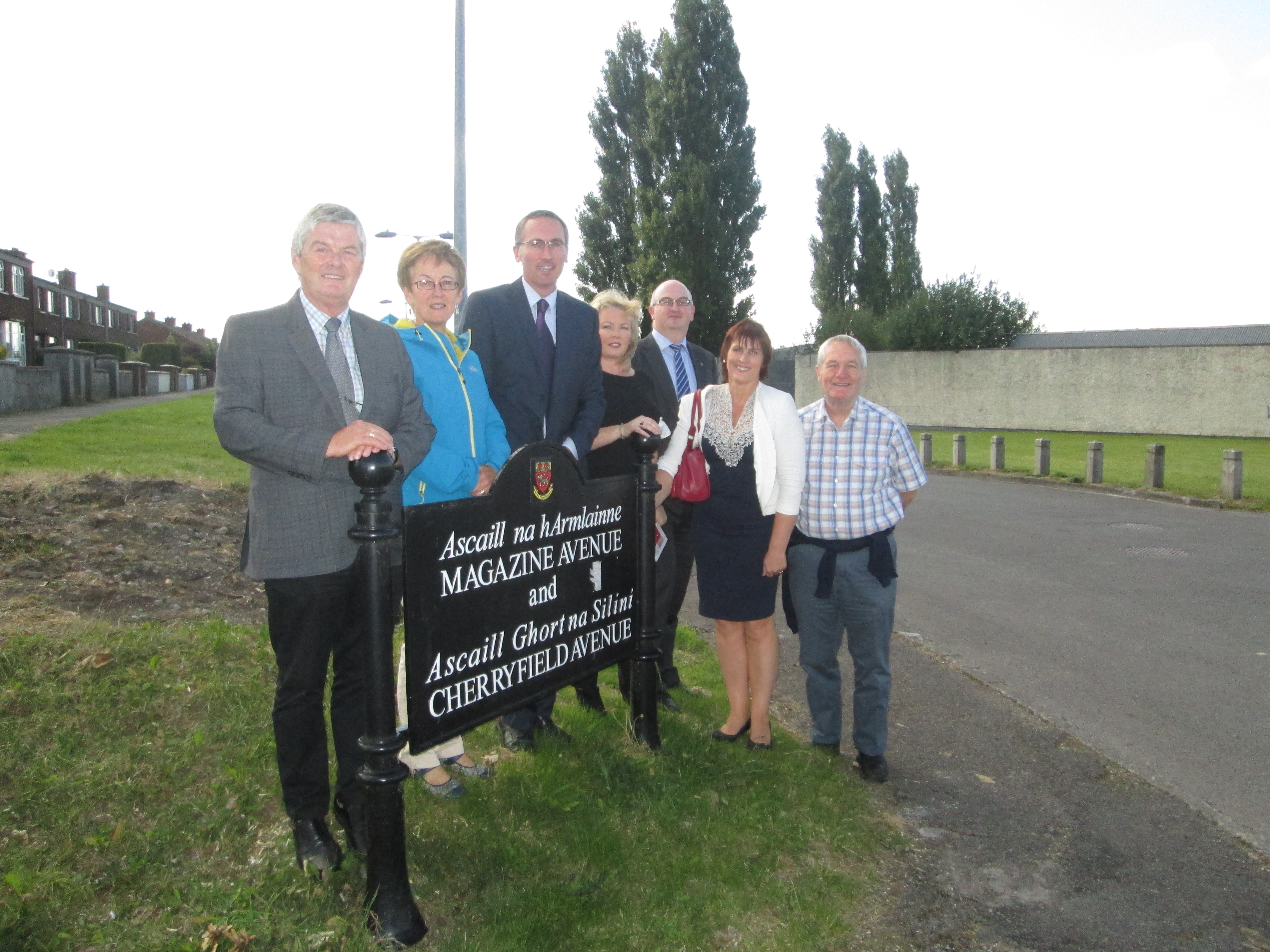 Battery Heights is a designated disadvantaged Housing Estate in Athlone Town and is serviced by the RAPID programme. Over the last 16 months the Battery Heights community and its groups have come together to tackle some of the issues identified within the community. The various groups are extremely supportive of each other in their efforts to build capacity within the neighbourhood.
The community is extremely proud to have achieved 2nd place in the National "Get involved in the Community" Project, which resulted in further recognition by the Tidy Towns committee. Recently a nomination for an Aontas was received, and again this is further evidence of recognition for their efforts to-date. Residents hope that, through sustained effort, they can change public opinion on Battery Heights, and as each new milestone is identified and achieved by the community, so too an increased energy and desire to change is becoming increasingly evident
Judges' Citation
Battery Heights Community and voluntary groups are tackling a range of significant challenges in their area. Undaunted they have generated great pride and energy in the community in the past 16 months. That pride is manifested in a beautiful community garden, the extensive painting of walls, the establishment of a men's shed group, the Battery Belles Women's group and a range of events and programmes in the Monsignor McCarthy Community Centre. The key priority for the residents is to reverse the negative perception of Battery Heights through self-help and improving the area. That goal is being achieved: the tide has turned.
9. Islands & Coastal Communities Category
Winner: Fanad, Co Donegal
Gaeltacht Beo Fhánada demonstrates an infectious enthusiasm and passion for its area which is isolated and rural in NW Donegal. Its main objective is to preserve the Irish language, develop community facilities and services, and develop tourism and employment in the area. The Fanad football club was the best in the county up until a year ago but has unfortunately lost most of the team to emigration.
The Wild Atlantic Way has helped put Fanad on the map and the committee are supporting this initiative strongly. The Phase 1 plan for the lighthouse is completed, car parks extended, and a viewing platform erected. There will be state of the art hostelling accommodation provided with a café and craft shop on site. Placenames have been collected and erected in local stone. The day Centre caters for all community activities. There is a Youth Club, Naíonra and marching band and loads of activities happening.
Judges' Citation
The judges found this place in northwest Donegal and its people an absolute pleasure to visit as they were brought on a community journey of over 50 years. Fanad is a community always looking to the future while building on the attractiveness of its environment and location. Gaeltacht Beo Fhánada demonstrated an infectious enthusiasm and passion for their area. The judges were also impressed with the manner in which the younger people in the community readily accepted they had a responsibility to continue the work of previous generations and take on the leadership mantle. The future is in good hands.
10. Urban Neighbourhoods Category
Winner: Mulhuddart, Fingal Council Area

Mulhuddart is one of the oldest and most challenged communities in Blanchardstown. It has a large proportion of social housing, both local authority and co-operative. Boasting a tremendous community spirit, the people of Mulhuddart work closely with the Council and other agencies under the Mulhuddart Priority Initiative, promoting a multi-agency and community approach to planning in the area. This group is now working on a five year plan for Mulhuddart. Recently many innovative community projects have been developed, for example the Men's Shed Initiative, enterprise units, community facilities and an eco-park. Blanchardstown Institute of Technology also engages with Mulhuddart through its community development and social studies third level programme and Learning Exchange. The Mulhuddart area has a young and ethnically diverse population and many of the newer community projects and initiatives reflect the enormous talent and innovation fostered by local schools and youth projects in Mulhuddart.
Judges' Citation
There is an innate sense of enthusiasm that transcends the travails of daily life in Mulhuddart in Dublin 15, one of the oldest, proudest and most challenged communities in the greater Dublin area. There is a large proportion of social housing – both local authority and co-operative and the residents each day face the struggles familiar in such communities. There is strong interaction with and support from the local business community and boasting a tremendous community spirit, the people of Mulhuddart work closely with Fingal County Council and other agencies locally under the Mulhuddart Priority Initiative which takes a multi-agency and community approach to planning in the area. This group is working on a five year plan for Mulhuddart. The men's shed project, local enterprise units, new community facilities and the fishing project augur a new beginning. In the judges' opinion the five year plan will work.
11. Special Award
The Community of Clones, Co Monaghan

Clones town is recognised as being amongst the areas worst affected by the border between Ireland and Northern Ireland. Faced with the closure of multiple local businesses and widespread dereliction, the community came together in 1999 to form Clones Community Forum, which represents over fifty voluntary groups striving to make a difference in the town. The Forum provided a much needed vehicle with which to engage with statutory agencies in an organised way. Clones Community Forum set about identifying all the needs of the local community – social, economic and cultural – and organised the linkages required to make things happen in this depressed area. As a result, the town streetscapes and centre have been totally transformed, community meeting places have been improved, and facilities for young people and people with special needs have all been put in place. Each group is very clear how they are contributing to the revival of Clones, and the pride in what has been achieved to date is palpable.
Judges' Citation
This was probably one of the most enlightening presentations the judges encountered as it put in very clear terms the history of the area and the steely determination over a long period of time by the leaders of the community to overcome many obstacles. There is an obvious sense of pride emerging with some incredible new projects recently established in particular the development of what is arguably Ireland's finest regional sports complex. Clones is a town with a future and for the power of the leadership in its community Clones is receiving one of our special awards.
12. Special Award
Glasthule Buildings, Dun Laoghaire Rathdown Council Area

Glasthule Buildings is a small local authority housing estate consisting of 75 units in the centre of Glasthule. The profile of the residents is mainly single people between the ages of 65 to 95 years. The diversity of nationalities amongst the residents creates a multicultural environment and represents to a degree, the evolving nature of Irish Society. As well as native Irish citizens, residents are drawn from various cultural backgrounds such as Poland, Russia, Cuba and the Carribean Islands. Social cohesion and social inclusion in Glasthule are daily realities rather than aspirational policy, as evidenced in the make-up of our Committee and the level of support for the work carried out in partnership with the Dun Laoghaire-Rathdown County Council. Support from local businesses and the rest of the community in the form of clean-ups and structured co-operation is invaluable in creating a dynamic functional place where the residents are indeed proud to live and call home.
Judges' Citation
This is a small local authority estate. There are many nationalities and cultural backgrounds, but what struck the judges was the empowerment, communication, social inclusion and pride that was engendered by an innovative estate management scheme. The residents (aged between 65 – 95) are actively involved with Dun Laoghaire Rathdown Council in the management and enhancement of their estate. Projects and achievements are too numerous to mention, but what is in place is a palpable sense of pride and "can do" attitude that has created a vibrant and safe environment for elderly residents.
13. Cities Pop Category Under 1,000 – Cities
Winner: Clarawood Estate, Belfast

The Oak Partnership is a partnership of faith-based organisations situated in the Clarawood Estate in East Belfast. Its purpose is to develop a place of hope, equality and opportunity within the estate, where through Christ's love and practical action, people will find support and encouragement to reach their full social, spiritual and intellectual potential.
Approximately twelve years ago, following community consultation, the Partnership refurbished a unit located centrally in the Estate and rented this from the Northern Ireland Housing Executive. Programmes delivered from this unit include an afterschool's club, a women's group, a drop-in facility and youth activities for both primary school children and teenagers, and an arts and crafts club, providing a social outlet for various age groups within the estate. The Management Committee comprises representatives from partner organisations and residents. Volunteers have been recruited from the partner organisations over the years and residents of all ages have also volunteered within the Partnership.
Judges' Citation
The group that underpins this community has shown a marvellous resilience in the face of hostility. This is a faith based organisation, whose purpose is to develop within the 700 house estate a community of hope, equality and opportunity. Despite adverse local circumstances it continues to strive to encourage the local residents to reach their full potential socially and intellectually. The financial support received from the statutory agencies is uncertain and therefore the financial resources are under ongoing pressure. Despite this their message for the future is "We are here to stay". The judges salute the The Oak Partnership – they are making a real difference.
14. Population Category Over 1,000 – Cities
Winner: Doughiska/ Merlin Woods, Galway
Doughiska, on the eastern outskirts of Galway City developed rapidly during the Celtic Tiger Period. Unfortunately, the rate of house building far outpaced the development of infrastructure and services leaving a vibrant, young, multi-cultural community without local services and places to meet. The Doughiska, Roscam and Ardaun Community Development Company (DRA) set about compiling a "Community Profile, Needs Analysis and Action Plan," through a household survey. Local people worked together to create a community based on the wishes identified by the people. Schools, a Family Resource Centre and Church have now opened along with improved bus services, adult education courses, school and youth services, a primary care centre, employment supports and a new park area, maintained by the Council and local volunteer group – Friends of Merlin Woods. Focused intercultural work has led to the formation of the Connect Intercultural group which holds an annual festival. Residents Associations and other groups have formed and deliver many ad hoc events and projects.
Judges' Citation
The judges were impressed at the outset and were unstinting in their praise of this Category Two entry. With a growing population now in excess of 7,000 this community has shown a remarkable capacity to cater for the needs of a diverse, multicultural population, which totally lacked basic social, educational, health and recreational facilities and services. The umbrella community development company recently acquired a modern, but closed down hotel premises and transformed this into a multi-purpose community facility. This partnership provides strategic direction and empowers the local community to provide a range of services and programmes locally. This project demonstrates best practice in co-operation, collaboration, integration and social inclusion of the highest calibre.
15. Eco Initiative Category – Cities
Winner: Eco Mattress Recycling Ltd, Dublin
Eco Mattress Recycling Ireland Ltd is a Social Economy Enterprise, providing C.E. trainees on back to work schemes with valuable work experience through both in-house and offsite accredited training programmes. The mattress recycling operation is now fully functional and has a fully permitted recycling facility with written work instructions detailing all stages of the recycling process.
From May 2013 to April 2014 ECO Mattress has prevented one hundred and seventy tonnes of waste material going to landfill sites. This includes nearly 100 tonnes of combustible waste suitable for R.F.D./S.R.F. and a further fifty five tonnes of steel springs for processing by fully permitted recycling companies. Over seven tonnes of wood extracted from bed bases is recycled as kindling, and the remaining eight tonne of materials accounted for through work in progress and stock in hand. A sustainable social economy enterprise that can generate a reasonable gross profit annually has been created.
Judges' Citation
This project illustrates how a community based enterprise working in conjunction with state agencies can provide much-needed employment opportunities for people of limited work expectations in Dublin City while at the same time making a significant contribution to waste minimisation and landfill reduction. It is the only facility in Ireland that recycles used and damaged mattresses. Nothing goes to waste in the stripping down of old mattresses – the timber carcasses are used for fire kindle, springs and other metals are recycled and cloth and other material is used for firing kilns in the cement industry. This is a truly admirable enterprise.
16. Innovation Category – Cities
Winner: Something Special, Derry/ Londonderry
Something Special is an educational establishment for young people and adults with learning disabilities. It offers a wide range of courses for all of its students ranging from creative arts and music to business enterprise and event management. The principal aim of Something Special is to "Advance education, training and personal development by providing accredited and non-accredited courses and other educational activities which assist in developing skills, capacities and capabilities and also by providing imaginative and progressive music and performing arts activities which stimulate learning and are participative, empowering and expressive". The organisation also provides facilities for leisure-time occupation for young people and adults with learning disabilities with the aim of improving their quality of life. Something Special organises activities, events, projects and initiatives that promote social integration, equal access and participation. It engages with, promotes co-operation among, and establishes strategic partnerships between groups, organisations and agencies in the community, voluntary and statutory sectors.
Judges' Citation
This was an exceptional entry where an innovative social enterprise cafe was providing skills training, but was also a focal point for integration with the local community, a social outlet and a respite for carers. Something Special is an association with charitable status catering for young people and adults with learning disabilities. Education, training and personal development is provided in two locations -, Springtown and Eglinton. Committed and talented volunteers at management committee level, working with students led by a highly motivated founder and team leader have created a much loved and much needed service.
17. Community Health Category – Cities
Winner: Waterford Sports Partnership
Waterford Sports Partnership was established in 2002 with the aim of increasing participation in sport and physical activity in Waterford. The Partnership provides a leadership role for the co-ordination, development and delivery of sport and physical activity opportunities in Waterford. This is achieved through the provision of information and support, facilitation of education and training opportunities and supporting the development and implementation of programmes and events that encourage greater participation in physical activity. The quantity and quality of this work is the central reason for the entrants being chosen to represent Waterford in this category.
Judges' Citation
Community Health is a very important issue and since inception in 2002 Waterford Sports Partnership has provided a leadership role for the coordination, development and delivery of sport and physical activity opportunities in Waterford. This is achieved through the provision of information and support, facilitation of education and training opportunities and supporting the development of programmes and events that encourage participation in physical activity. The quantity and quality of this work annot be over emphasised. The leaders have shown great enthusiasm and initiative in engaging all elements of the local community. This is a thoroughly deserved category winner.
18. Urban Neighbourhoods Category – Cities
Winner: Armagh Neighbourhood Renewal Partnership

Armagh Neighbourhood Renewal Partnership has delivered significant improvements in the quality of life for communities across West Armagh over the past 10 years. Primary schools report a growth in high key stage results as a consequence of supplementary literacy and numeracy supports; pride in the area has risen due to creative reimaging projects in dilapidated areas; dedicated resource centres provide hubs for generating community development initiatives and engagement with young people; employment prospects for early school leavers and young adults have broadened considerably following completion of certified training in caring services, oil refinery technology, driving skills, and heritage skills.
Delivery of the programme hinged on the dedication of the four area community associations. Their willingness to work in partnership with statutory agencies, reconciling the objectives of the Neighbourhood Renewal Programme with the vision of residents, has culminated in real and measureable changes for the better, and a lasting framework for driving forward future initiatives.
Judges' Citation
Since inception 10 years ago the Partnership has delivered a number of significant improvements in the quality of life for communities across West Armagh spanning areas of education, health, community, physical, and economic renewal. Primary schools report a growth in high key stage results; pride in the area has risen among residents; dedicated resource centres provide essential hubs for generating community development initiatives; and employment prospects of early school leavers have broadened considerably. These are tremendous outcomes in a highly deprived area. There is a lasting framework for driving forward future initiatives. This project if replicated would be very successful elsewhere.
19. Special award
Community Wellness Empowerment Leadership & Life Skills, Limerick City

This project brings together community partners, university staff and students through practice-based, educational activities to work collaboratively and build capacity in well-being and lifestyle education within the local community, commencing in St. Mary's with the objective of future rollout in other disadvantaged areas. The aim of the project is to deliver a programme in well-being and life style education in St Marys Community, thereby empowering communities through education, to better contribute to their own well-being and healthier life-styles.
The programme focuses on maximizing the practice of good mental and physical health and empowering people to lead and sustain positive change in their community. Its approach to learning empowers participants to effect positive change in their well-being and life-styles within their own community. It builds leadership capacity within the community and strengthens local communities by enabling and supporting engagement with the community and promoting social inclusion through developing local projects in the area of health and well-being.
Judges' Citation
This is a unique project, designed by the residents of Kings Island in consultation with the University of Limerick, with the overall objective of improving the wellbeing of a
disadvantaged area and promoting healthier lifestyles for the residents of the community. It will empower people to lead and sustain positive change in their daily lives. It is early days of the project and the judges concur that it will be interesting to see the evaluation results when the project is completed in December 2015.
20. Council Community Engagement Award:
Winner: Clare County Council
Judges' Citation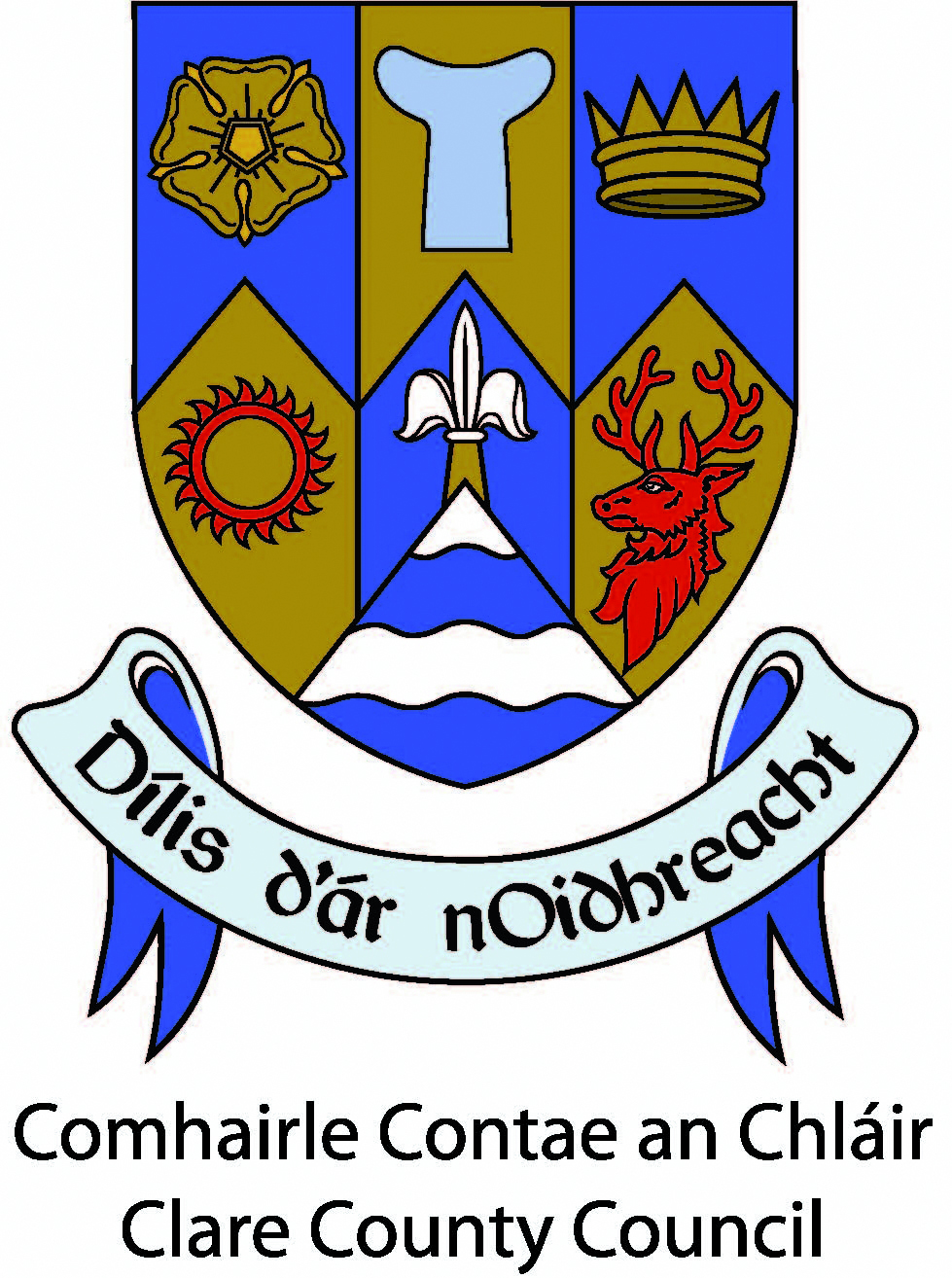 Clare County Council has been to the forefront of Pride of Place since the beginning and has been a driver of the awards recognising the great value they are in motivating communities to work together. In addition this year despite managing the most significant changes ever in the history of local government and the extensive workload that entailed, the council still managed to organise with great attention to detail what I am sure you will all agree is one the finest award ceremonies ever hosted.