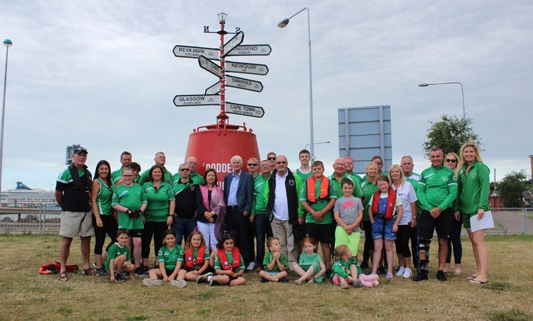 Cities Section: Category Two – Urban Neighbourhoods / Villages with a population of 1000 – 2000
Winner: Ringsend (St Patrick's Rowing Club), Dublin City
Summary:
Ringsend in the heart of Dublin Docklands is home to St Patrick's Rowing Club, the emerald gem of the Liffey. It is a traditional rowing club that epitomises Ringsend. Founded in 1936 it is rich in local history and tradition and has developed and grown into the successful club it is today. Before 1936, it was common then for dockers from both sides of the harbour to row to incoming schooners. Known as "hobblers", crews raced to be the first to throw a hook on to the ship's deck, hoping to earn a piloting fee and a wage for unloading cargo. This practice was stopped by Dublin Port and the "hobblers" used their rowing skills for pleasure and competitions. There is no better experience on the water than in skiff rowing. Members describe St Patrick's as a journey of achievement and camaraderie. Their skilful tutorage and support, treasured friendships and family spirit makes St Patrick's a home from home
Community Contact: Bernie Lillis, [email protected]
Citation:
The judges appreciated their visit to an historic club who demonstrated their unique history to them. However, this multi award winning group is much more than a sports club, it is a key community energiser in their area, which actively involves community, influences well-being and cares for the vulnerable in its area. The judges had a wonderful visit to this exceptional club with huge future ambitions and they wish them well as the club members continue their impactful work.
Runner up: Short Strand, Belfast